FOOD AND BEVERAGE FLOORING
INTRODUCTION
Safety of food plays a major role in human life and the hygienic design of food processing facilities is central to the safe production of food and beverage products. Because of the sensitive nature of food processing environments and the subsequent risk of contamination, food safety standards are factored into the design and construction of food and Beverages flooring. Dust free flooring is the very basic need of the food industry.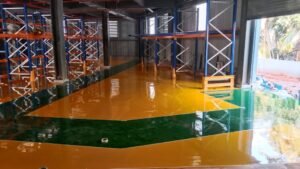 Food and Beverage Flooring is nothing but  a permanent covering of a floor. The food industry flooring is one of the most challenging ones when it comes to the field of flooring. Many factors are to be considered in the selection of flooring materials and their finish. Floors in food manufacturing or food preparation premises must be able to be cleaned effectively and thoroughly, must not absorb grease, food substances, or water, bacteria, and should be laid to a safe design so as not to cause the pooling or ponding of the water. Different grades of flooring are needed for the different areas found within the food environment. For example, production areas often need a hard-wearing, chemical-resistant floor finish, which can stand up to heavy machinery and general wear and tear.
Based on the nature of  industries flooring works can be varied such as epoxy flooring, PU flooring etc. which are commonly used for Food industry floorings.
BENEFITS OF FOOD AND BEVERAGE FLOORING                         
Easy to clean thus provides hygiene.
Provides safe working environment for operatives with the correct level of slip resistance for any given food industry flooring area.
Provides resistance towards chemical, mechanical abrasion and thermal shock.
Provides durability by adding strength to the floor.
FOOD AND BEVERAGE FLOORING OPTIONS
Epoxy Flooring
PU Flooring
Floor Coatings
Tiles / Stone
Methyl Methacrylate (MMA) Coatings
EPOXY FLOORING IN FOOD AND BEVERAGE INDUSTRY
Epoxy flooring can provide the ultimate in food-safe flooring. They meet FSSAI requirements and deliver outstanding levels of durability, hygiene, safety and longevity. This seamless flooring impermeable surface provides a protective barrier against all types of contaminants and can be cleaned easily to ensure the highest standards of hygiene and food safety. Unlike kota stone or tiled floors this Epoxy flooring doesn't have joints. So this seamless flooring ensures the absence of any bacterial growth and micro organism growth.
Epoxy is a resin compound made up of two or three components, depending on the application. Coatings come in a variety of options including self-levelling compounds, roll on and epoxy screed – all of which provide a seamless flooring and totally impermeable surface. Epoxy also allows seamless floor coving between walls and floors, which enables even greater protection from the possibility of food contamination from an accumulation of bacteria, mould, dirt and dust.
Another benefit is that epoxies can be blended with aggregates such  silica to create a textured slip- and skid-resistant surface. This can be a particular advantage in wet environments.   
100% solid epoxy resin floors (epoxy flooring) are a good choice for food industry flooring works because they provide strong resistance to thermal and mechanical shock, plus they can withstand frequent rigorous cleaning regimes, such as high-pressure hosing with hot water and aggressive, corrosive cleaning products. These solid floors are also a good option in facilities where highly acidic products are processed (eg, citrus fruits).
These are some examples where epoxy flooring is typically used:
Bottling and canning operations
Meat, poultry and seafood processing
Dry food processing plants
Cold storage and freezer rooms
Fresh produce processing facilities
Distilleries, wineries, cideries and breweries
PROS OF EPOXY FLOORING
Epoxy floors are harder, stronger and more durable than polyurethanes.
The best choice for factories, warehouses and industrial workplaces that have heavy forklift traffic because of its durability.
Also a better choice for humid settings, as its ability to cure well is not as influenced by humid conditions.
Generally offers superior adhesion to concrete surfaces.
Also better at self leveling and filling in imperfections such as pits and hairline cracks in surfaces.
Better resistance to chemicals such as sulphuric acid – ideal for industrial settings.
CONS OF EPOXY FLOORING
Long cure time until fully hardened (around  a week).
Prone to yellowing when exposed to UV in sunlight, which can affect end appearance.
PU FLOORING IN FOOD AND BEVERAGE INDUSTRY
Polyurethane flooring or  PU Flooring is a popular choice for clients in the food industry. A typical polyurethane flooring material used in this application comes in mortar form, combining cement and water-based technologies that exhibit a high cross-linked density and resistances, making them ideal for abusive environments subject to prolonged chemical attacks.        
Cementitious polyurethane flooring systems are non-porous, preventing bacteria and mould spores from surviving in joints or cracks that are typically found in alternative flooring systems such as tiles or acid bricks. They are also low odour, non-toxic and non-hazardous .                                                             
Polyurethane flooring systems which are HACCP International certified have been leading the charge for hygienic food industry flooring for over a decade. For example, the polyurethane flooring range Flowfresh has been proven to meet the strict standards of the HACCP guidelines and it even contains an antibacterial property that goes beyond this industry standard by giving it the capacity to eliminate up to 99.9% of bacteria in contact with the floor.
PROS OF PU FLOORING
Can achieve a mat finished floor
Is more elastic, giving it a softer, bouncier feel and better resistance to surface scratching
Also offers better resistance to extremes of temperatures e.g. freezers and cold rooms
Good for waterproofing
Better resistance to food contaminants such as lactic acids – ideal for dairies and also commercial kitchens
Offers a good base for anti-slip surfaces
Has a much shorter curing time than epoxy, important if you just can't spare the down time in your facility.
CONS OF PU FLOORING
Very sensitive to humidity, can affect its ability to cure properly.
Prone to gouging, not as resistant to heavy industry traffic as epoxy surfaces.
IS PU FLOORING BETTER THAN EPOXY FLOORING ?
Some epoxy floor coatings are heat resistant to temperatures upto 65⁰C, whereas PU flooring systems are available that can tolerate 120⁰C. The superior chemical resistance of  PU floors has made them popular in the food & beverage industry, where corrosive acids and by-products are found in large quantities.
CONCLUSION                                                                    
Thus, we conclude flooring for the food industry is an important topic with many sensitive areas of concern to meet food safety standards. Check out the F&B industry case studies around the Asia Pacific region, where PU flooring and  epoxy flooring systems are used for flooring new-builds and overhauls.
We at Texel agency provide long lasting Food Industry Flooring like Epoxy & PU flooring. We are one among the best Epoxy flooring service provider in Tamilnadu. We also provide our Epoxy flooring services all over south India. Chennai, Bangalore, Hosur, Coimbatore, Cochin, Thiruvananthapuram, Calicut, Kannur, Mangalore, Thrissur, Palakkad, Salem,Trichy, Madurai, Tuticorin, Tirunelveli and Nagercoil these are all some cities where we provide our Epoxy flooring services.