FLOOR DENSIFICATION WORK
TABLE OF CONTENTS
INTRODUCTION
FLOOR DENSIFICATION WORK
THINGS TO BE VERIFIED BEFORE GOING FOR FLOOR DENSIFICATION PROCESS
WHEN SHOULD THE FLOOR DENSIFICATION IS APPLIED BEFORE STAIN OR AFTER STAIN ?
WHY ARE WE GOING FOR FLOOR DENSIFICATION ?
METHODS OF CONCRETE DENSIFICATION
APPLICATIONS OF FLOOR DENSIFICATION WORK
INTRODUCTION
Now-a-days, the polished concrete flooring has becoming the preferable choice for the ones looking for no wax / epoxy flooring services / PU flooring services. Concrete floors may wear out due to multiple reasons like surface abrasion, de-lamination, and so on. But regardless of age, the concrete surface can be polished through the right process.
As we all Know concrete is a tough, sturdy material that makes it perfect for floors. Floor densification work makes a concrete floors are more stronger and thus acts as a protective coat, and it can hold up to just about anything. Floor densification is perfect in a number of settings, including the pharmaceutical and food and beverage industries (mainly because these industries are prone to accidental spills). Concrete is naturally porous, which makes it suitable to things like accidental spills. One such work that can help to  make your concrete floor tougher and more durable while making it perfect for polishing is a concrete densifier.
FLOOR DENSIFICATION WORK                                                         
Floor densification work is the process of applying a concrete densifier to the top layer of a concrete floors in order to make it stronger and tougher. This also makes the concrete perfect for polishing during the refinement process. While it complements a polished floor perfectly, it can be applied to both polished concrete floor and unpolished concrete floors. Therefore, floor densification process is used to add longevity and strength to a concrete floor. It works by filling in the pores of the existing concrete flooring. One byproduct of concrete flooring is free lime, a calcium oxide that reacts to densification. As the densifier penetrates, it creates a chemical reaction that fills every pore of the concrete. This hardens the concrete and increases surface durability. Most well-maintained concrete floors which have gone through a floor densification process can last up to 20 years.
THINGS TO BE VERIFIED BEFORE GOING FOR FLOOR DENSIFICATION PROCESS
There are certains we need to verify before the floor densification process and they are :
Make sure your concrete floor is clean.
This means no grime, dirt, or grease. If your floor isn't clean, then the rest of the process can get messed up.
Once the surface is clean, use a solvent to get rid of any grease spots or stains. After the solvent dries, spay the densifier.
Be sure to keep the surface saturated to ensure every pore is filled.
WHEN SHOULD THE FLOOR DENSIFICATION IS APPLIED BEFORE STAIN OR AFTER STAIN ?
It is debated whether we should apply densifiers before or after concrete stains. Based on the kind of stain you are having it can be varied. There are three different categories of concrete stains :
Penetrating stain – This type of stain is designed to penetrate the concrete floors and bond with them. They come in a lot of different colors and can be combined to create new ones.
Film-forming stain – It is the most common type of stain. They have been around the longest. This adds color to the surfaces, but becomes subject to wear and tear over time.
Acid stain – These are generally more expensive than others. These use a chemical reaction to give concrete a marble look.
While you could apply a concrete densifier before or afterward in each of these situations, there are other factors to consider. For example, if you use an acid stain, you will probably want to put the concrete densifier on afterward to ensure that it goes on and stays on effectively.
WHY ARE WE GOING FOR FLOOR DENSIFICATION ?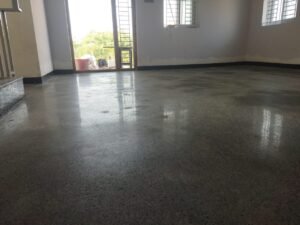 If you are getting a polished concrete floor for your business or industry, applying a concrete densifier to your polished concrete floor adds a lot of benefits. Floor densification work adds durability to your floors and makes them resistant to wear and tear. There are many professional settings that can benefit from concrete densification, including hospitals, factories, airports, stadiums, and government buildings etc. There are several benefits of concrete densification you should consider:
They are very versatile and easy to apply.
Concrete densification makes your concrete floor abrasion- resistant and stain-resistant.
They get glossier over time with regular cleaning.
No peeling or discoloration.
They add value to your concrete floor, which means they add value to your property.
Concrete densifiers play a vital role in prolonging the life of your concrete and should ultimately be a staple when polishing concrete. They work by penetrating through the top few layers of your structure to improve its durability and strength. Concrete densifiers can be used on both polished concrete and unpolished concrete and play an important role in preventing dusting, pitting, and wear-and-tear.
Densifiers used on polished concrete surfaces help concrete to take better polishes and surfaces will produce an attractive low sheen shine over time with regular maintenance. Densifiers not only help to make your polished concrete surface look better, but they also make it that much stronger and better able to resist any moisture penetration that could cause rust and rebar expansion down the line. Their important function should not be overlooked if you want your concrete floor or structure to last.
Concrete densification requires the skills and knowledge of a professional to install. To learn more, a concrete floor installation company can help.
METHODS OF CONCRETE DENSIFICATION
Concrete densification or compaction methods involve rearranging the soil particles into a tighter configuration, resulting in increased density. This increases the shear strength and liquefaction resistance of the soil.
Floor densification has the advantage that the degree of treatment can be easily verified, and if liquefaction is triggered, displacements are almost always reduced. Some of the methods of concrete densification process is given below :
§      Compaction grouting
§      Compaction piles
§      Stone columns
§      Vibro-compaction
§      Rapid-impact compaction & Resin Injection
APPLICATIONS OF FLOOR DENSIFICATION WORK 
Floor densification work has vast number of applications. Here, are some of the major applications of floor densification :                                                                                                       
Manufacturing industries
Super Markets
Car Parking Deck in a Showroom
Residential Car Parking area
Warehouses
Resorts and Hotels
We at Texel Agency will help you to achieve best in class Floor Densification Work & warehouse flooring. We do help you to lay floor densification woek and all Epoxy flooring, PU flooring & concrete polishing
Texel agency is one of the best Floor Densification Work  contractors in Coimbatore. Our Floor Densification  Work price is very optimum with best quality.
Texel Agency is also one of the best epoxy flooring applicators in Coimbatore. Our Epoxy flooring service is being extended to all over south india.
Our Epoxy Flooring service is being given in important cities like Coimbatore,Chennai,Bangalore, Hosur, Madurai, Thiruvananthapuram,Kochi & Calicut. Our Epoxy flooring service is being given at very optimum price.
Please call us for the best Industrial flooring solution,