TEXTILE AND GARMENTS INDUSTRIAL FLOORING
TABLE OF CONTENTS
INTRODUCTION
TYPES OF FLOORING WORK COMMONLY USED FOR TEXTILE AND GARMENTS INDUSTRY
EPOXY FLOORING
WHY ARE WE USING EPOXY FLOORING IN TEXTILE & GARMENTS INDUSTRY
BENEFITS OF USING EPOXY FLOORING IN TEXTILE AND GARMENT INDUSTRY
PU FLOORING / POLYURETHANE FLOORING
WHY ARE WE USING PU FLOORING IN TEXTILE AND GARMENTS INDUSTRY
BENEFITS OF USING TEXTILE INDUSTRY PU FLOORING
 INTRODUCTION
Flooring for textile and garment industry is important because the flooring needs to protects anyone using the workplace. A damaged floor can result in broken machinery and safety concerns that can lead to personal injury and accidents. That is why it is vital to choose a floor that can resist damage as much as possible. In Texel Agency we help you to choose the right floor for the textile and garments industry.
And also it must be Dust free flooring. Normally these days concrete dusting is the major concern Garment Industry. Due to dusting there is chance for garments may get stains. So that garments may get rejected during inspection. So Dust free flooring is the major concern in Garment industry. We can achieve the Dust free flooring by using Epoxy Flooring , PU Flooring or else by Concrete Polishing
Textile and garments industrial flooring is a versatile flooring and can be used in a wide variety of environments. Flooring is particularly strong solution for hospitals, higher education facilities and gyms where clean design is important, but heavy wear and tear is likely.
In textile and garments industry, floor should need to be clean and clear and also it needs to withstand heavy machines.
TYPES OF FLOORING WORK COMMONLY USED FOR TEXTILE AND GARMENTS INDUSTRY
There are two major types of textile and garments industrial flooring and they are :
Epoxy Flooring
PU Flooring (Polyurethane Flooring)
EPOXY FLOORING
     Epoxy floor coatings is a type of synthetic resin floor system that is laid on top of concrete subtrates as a form of protection and decoration. The systems can comprise of several layers of thermosetting resin that are coated, trowelled or poured, and generally applied onto a concrete substrate.
Epoxy floor coatings are commonly used for commercial and industrial flooring. Epoxy floor coatings are normally applied over concrete floors to provide a high-performance, smooth, and durable surface that can last many years and withstand heavy loads.
WHY ARE WE USING EPOXY FLOORING IN TEXTILE & GARMENTS INDUSTRY
The epoxy binders are used as an adhesives to hold non-woven fibers in the desired orientation whether they are crosslinked or not. Epoxies are used as textiles treatments to provide specific performance benefits. Thus, epoxy flooring is the best solution for textile and garments industry flooring.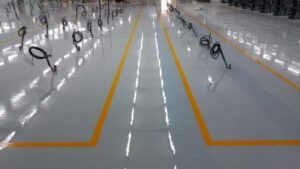 Epoxy coating is already proven to contribute to defect healing and fabric durability.
Epoxy resin in textile industry will make fabric stiff and rock hard after it cures. Epoxy resin in textile industry may make fabric look wet and it may even cause it to go darker or alter its colour.
Epoxy acts as a concrete floor sealant. They are safe and easy to clean, preventing microbial growth.
Textile epoxy  flooring is a multi-usage miracle resin. Textile epoxy flooring is made from synthetic polymers, and you will find it everywhere from industrial flooring to restaurant, airport and hospital flooring as well as in paints. As a floor, textile epoxy flooring can withstand acids, can be installed without seams, can be colored or textured to match almost any specification, holds up to heavy foot traffic and with additives can even take the weight of heavy equipment or airplanes without cracking.  And also the floor is easily cleaned with a standard mop. With so much adaptability and low maintenance costs, textile epoxy flooring is an ideal flooring service so that we can say that epoxy flooring is an eco-friendly industrial flooring.
BENEFITS OF USING EPOXY FLOORING IN TEXTILE AND GARMENTS INDUSTRY
Epoxy Flooring in textile industry gives the look of quality
Textile Epoxy flooring gives excellent durability
Longevity of textile epoxy flooring
The major benefit of epoxy flooring in textile industry is the workplace safety.
Epoxy flooring in textile industry provides resistance to everything like water, skip, chemical and so on.
Epoxy flooring provides protection for commercial and industrial floors.
PU FLOORING / POLYURETHANE FLOORING
PU floors are used in both domestic and commercial environments advantages being elasticity, additional cushioning and noise reduction. PU screed, on the other hand, is solely used in industrial environments because of its hard wearing properties.
PU flooring is a better alternative than epoxy-based flooring solutions if you are looking for a flooring system which has a degree of flexibility and if you require a colour fast floor that won't be affected by direct sunlight.
WHY ARE WE USING PU FLOORING IN TEXTILE AND GARMENTS INDUSTRY
          PU flooring / polyurethane flooring can enhance textile industry flooring when used as a waterproof coating.
The flooring purposes of polyurethane in textile and garment industry  has several specific applications, such as top coatings or as carpet underlay foams. PU flooring in textile industry  can help to make floors more durable, aesthetically pleasing and easy to maintain. The lifespan of PU flooring in textile industry and their appearance can be increased through the use of PU foam underlay's, which can also help to provide better comfort with reduced ambient noise. PU based protective finishes can also be used as floor coatings, where they can provide solvent and abrasion resistance on the one hand and ease of cleaning and maintenance on the other hand to the industrial textile flooring.
Industrial Polyurethane floor coating provides exactly the reliable, long-term protection needed.
Industrial Polyurethane floor coating keep flooring crack-free and easy to clean and repair – even under demanding conditions. The best part of  industrial polyurethane floor coating is they are economical when it comes to recoat or repair as the thickness of the coating is in few microns and can be customized to meet the requirements of specific industrial situations. Properties of PU floor coating in industrial textile flooring such as elasticity, antibacterial, antifungal can all be adjusted as per the client's need.
BENEFITS OF USING TEXTILE INDUSTRY PU FLOORING
Excellent Flexibility
Risk free
Protection
Versatility
Seamless floor
Good chemical resistance
Abrasion and impact resistance
Acts as a crack bridging property
Provides high-performance to the industrial textile flooring.
We at Texel Agency will help you to achieve best in class Textile and Garments Industrial Flooring & warehouse flooring. We do help you to lay textile and garments industrial Flooring and all Epoxy flooring, PU flooring & concrete polishing
Texel agency is one of the best textile industrial flooring contractors in Coimbatore. Our textile industrial flooring price is very optimum with best quality.
Texel Agency is also one of the best epoxy flooring applicators in Coimbatore. Our Epoxy flooring service is being extended to all over South India.
Our Epoxy Flooring service is being given in important cities like Coimbatore, Chennai, Bangalore, Hosur, Madurai, Thiruvananthapuram, Kochi & Calicut. Our Epoxy flooring service is being given at very optimum price.
Please call us for the best Industrial flooring solution,